Summer holidays are fast approaching and even the weather seems to be in agreement about that!  There are so many good reasons to visit the Highlands of Scotland – majestic scenery, inspiring history, grand castles and, of course, our world renowned whisky distilleries.  Here at Kingsmills Hotel, we've put our heads together and come up with a few more great suggestions of things to keep you and the family entertained this summer…
Belladrum Festival, Beauly: August 2nd and 3rd
An eagerly anticipated landmark event in the Scottish festival calendar, this family friendly event includes over 90 acts across 5 stages featuring local and internationally renowned artists. Why not combine some high-octane action with a relaxing stay at Kingsmills Hotel? We have a fantastic range of luxury hotel rooms to suit everyone, check out our availability here.
Scottish Open, Castle Stuart: July 11th – 14th
The 2013 Scottish Open returns to Castle Stuart where, once again, the spectators will enjoy great viewing perspectives made possible by the unique topography of this much heralded links course over looking the Moray Firth in Inverness, Scotland. Golf in Scotland is among the best in the world, and if golf is your thing, Kingsmills Hotel offers a fantastic selection of good value golf breaks.
Moscow State Circus, Bught Park: July 6th – 13th
The Moscow State Circus returns to the UK with its latest and greatest production to date – Gorky Park. If you're looking for ideas for inspiring breaks with children, this guarantees fantastic fun for all the family!
Inverness Highland Games, Northern Meeting Park: July 20th
The Annual Inverness Highland Games features a mix of track and field events, displays and family entertainment.  Founded in 1822, the games are one of the most spectacular traditional gatherings staged in Scotland and are a highlight of any trip to the Highlands. After a busy day at the games, we'd love to welcome you to enjoy a slap up meal in one of our wonderful onsite restaurants. Our childrens menu options are far more extensive than most hotel restaurants in Scotland, helping you enjoy a stress-free family break.
For discount hotel rates whilst exploring the Highlands, visit our website. With so much to see and do in Inverness this summer, our friendly team would love to welcome you at Kingsmills Hotel.
The Highlands recently played host to Scotland Means Business and welcomed guests to experience the best of Highland Hospitality.
Scotland is renowned for hospitality………….and within Scotland, the Highlands stands head and shoulders above the rest……………and within the Highlands, The Kingsmills Hotel leads the way on true hospitality.  One of the guests taking part in Scotland Means Business can testify to this!
Our weary traveller enjoyed the comfort of our super king-sized beds just a little too much and over-slept.  He was expected to play early at the beautiful Castle Stuart Links Course, but unable to rouse him from his slumbers, the coach and the rest of the party left without him.
When our General Manager, Craig Ewan, heard of this he phoned ahead to the golf course to ask them to hold the tee-time, woke our sleepy guest and personally drove him to the course – complete with flask of coffee and bacon rolls in the car.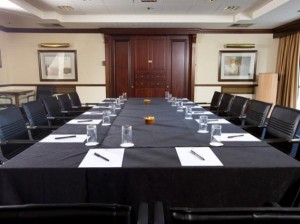 Our guest was very appreciative of the gesture as playing Castle Stuart was a highlight of the trip for him, but he was even more impressed when he was invited to leave his luggage behind, we would pack it up and have it transported onto the next destination on his itinerary!  Needless to say, The Highlands has another convert!
If you are looking to book a business trip away – and like the sound of our fantastic customer service here at Kingsmills Hotel please contact our Events team on 01463 257102 to discuss holding your event at the Kingsmills Hotel or download the new Events brochure here.
When was the last time you did something spontaneous? Sometimes life can't always be planned down to a tee, occasionally we need to do something a little out of the ordinary in order to keep things exciting and fresh! We can't think of a better way to escape from normality than to take a trip up to the Highlands of Scotland, to explore the banks of the famous Loch Ness and all it has to offer, topped off with a relaxing stay at the luxurious 4 star Kingsmill Hotel in Inverness.
Why don't you treat yourself or your loved ones to a trip to Inverness in the Highlands for a spur of the moment get-away, with so much to do in the local area, you are guaranteed a trip to remember! Inverness has as abundance of activities to offer visitors, some of its most famous attractions include:
So whether you are interested in walking, cycling, golf, history or you just want to enjoy some of Scotland's most beautiful scenery, Inverness has something to offer everyone.
Once you have taken in everything there is to see and do around Inverness, Kingmills Hotel with its luxury spa and choice of amazing restaurants is the perfect place to relax and unwind.  We are currently offering attractive rates for last-minute getaways as we know the importance of making spur-of-the-moment breaks enjoyable and easy to organise.
What's included in our last-minute getaway :
4 Star Accommodation
Scottish Buffet Breakfast
FREE WIFI in bar and lounge area
FREE onsite car parking
Full use of the leisure facilties
VAT
Click here to check availability and book online
To view this offer on our website please click here. Or alternatively you can call direct on 01463 257100 or email reservations@kingsmillshotel.com