When it comes to selecting your wedding cake, traditionally it has been a toss-up between choosing royal icing or buttercream, chocolate cake or traditional fruit cake, cute cupcakes or a multi-tiered showstopper. But have you ever considered pork or Stilton? Here at The Kingsmills Hotel, we can open your eyes to the wonderful world of alternative wedding cakes…
It seems that grooms – who, let's face it, are often excluded from many wedding decisions – are starting to find their own voice, and push back against the girliness of the whole affair. Over the last couple of years, more savoury, 'macho' alternatives have started to emerge in the form of pork pies, Guinness cake (yes really!) and giant masterpieces constructed solely of blocks of cheese. What is going on?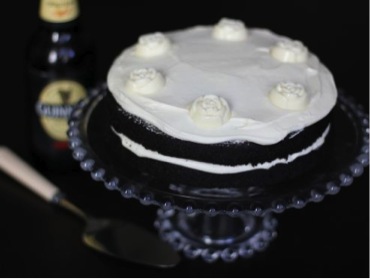 According to The Fine Cheese Company, purveyors of every type of cheese wedding cake imaginable for over 10 years, grooms are becoming increasingly interested in the details of a wedding purely on the basis that they are starting to put their hands in their pockets to fund their weddings themselves. Furthermore, cheese goes so much better with wine at the evening reception! The Fine Cheese Company claims that their multi-tiered cheese creations look every bit as elegant as a traditional wedding cake, whilst also being more substantial and doing a better job of filling up hungry wedding guests.
It is more challenging to make a pork pie look elegant, but Lincolnshire pork pie makers Adams & Harlow seem to have nailed it. They have conjured up a five-tiered extravaganza, consisting of pork and chicken pies, each hand-crimped around the edges and decorated with ribbons and flowers. I'm sure you will agree that the end result is actually rather aesthetically pleasing.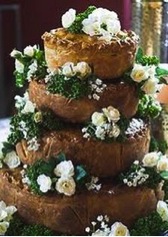 Whatever kind of wedding cake strikes your fancy, one thing is for sure: you are no longer restricted to the traditional fruit cake, and have free reign to use your imagination and make it a focal point of your wedding celebration. If you are a bride or groom to be, and are looking for a stunning wedding venue in Scotland – make sure you take a look at Kingsmills Hotel for the perfect Highland Wedding!