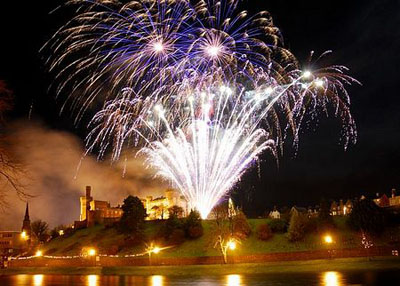 Here at Kingsmills Hotel, Inverness, we have been busy planning and preparing for our favourite season of the year, the festive season. At our beautiful Scottish hotel, we have a host of events and deals on throughout the Christmas period to make your winter holiday all the more memorable. Have a look at our site now to read about our festive party nights and our festive dining options, you don't want to miss out! It's not just Kingsmills that's already getting excited about Santa's arrival: the entire city of Inverness is anticipating the festive joy. Here at Kingsmills, we have compiled a list of a few special Christmas festivities in Inverness for you to add to your winter schedule.
On Sunday 17th of November, be sure to make your way to the Town House and be a part of the beginning of the Christmas countdown. Join the Provost and Santa Claus himself for the switching on of the highland capital's lights! The event will combine Christmas carols and traditional Scottish music whilst a most spectacular animation show will be projected on to the Town House wall for all to enjoy. After the lights have been switched on, Santa and the Provost will lead the crowds down Church Street to the Old High Church for the traditional carol concert: a perfect way to mark the start of the city's countdown to Christmas.
Who doesn't love an evening filled with fun, laughter, singing and dancing? From Tuesday 3rd of December until Sunday 5th of January, the Eden Court theatre proudly presents its Sleeping Beauty pantomime. This is the perfect evening for families, couples or young parties looking for something different!
On Friday 13th to Sunday 15th of December, Santa, his elves and his reindeer are making their way back to Whin Park. Playground rides and Santa in the beautifully illuminated Whin Park provides a truly magical experience for families in the city; why not extend the magic with a family stay at Kingsmills Hotel.
At Kingsmills, Inverness, we love the festive period and, like the rest of the Highlands, we just can't wait for the Inverness winter schedule to get underway and for true Scottish joy and cheer to spread across the our city!