Kingsmills – Swim Lunch and Kids Parties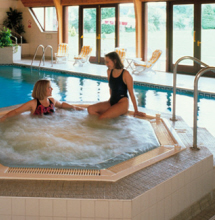 We at Kingsmills hotel are excited to announce that we've got some fantastic new offers for you to enjoy during the school holidays! Perfect for all the family; guests of all ages will love our exciting new offers and with the school holidays here you'll be able to treat yourselves with our leisure and spa.
Our Swim Lunch offer will treat you to a fantastic family retreat. For just £17 for adults and £9.50 for children or £19.50 for adults and £11 for children you'll be able to enjoy a two or three course lunch as well as use of the Kingsmills Lesiure Club and swimming pool. It's the perfect way for all the family to relax and indulge themselves!
Our Kids Parties are also excellent for children to enjoy an exciting party by the Kingsmills Hotel Lesiure Club Pool. For only £13.95 per child and for up to 12 kids, they'll love our fun inflatables as they are carefully supervised and catered for from our kids menus. We also offer private room hire for up to 2 hours for the kids to enjoy.
Enjoy a visit to Kingsmills hotel and we'll work to ensure a bespoke escape which caters for your every desire. One of the most luxury hotels in Inverness, you'll love immersing yourself in our fantastic leisure and spa. You can also enjoy scrumptious food and drink with our excellent dining before retreating to our relaxing rooms.
With that being said, don't hesitate to enjoy our fantastic Swim Lunch offer and Kids Parties for an exciting escape at one of the most luxury hotels in Inverness. Indeed, Kingsmills hotel will ensure you enjoy an immersing stay which all the family will love. With the school holidays here, it's the perfect time to treat yourself with our new offers! You'll enjoy a fantastic escape in truly unforgettable style!