We have an incredible offer this winter which is guaranteed to put a smile on your face. From just £85.00 per person, the Kingsmills Hotel is offering you two nights' accommodation in a Classic room and a full Scottish breakfast to wake up to. You also get to enjoy a three-course dinner in our Inglis Restaurant on your first night and access to all our excellent leisure facilities. When the cold winter wind blows outside, come to us for a warm welcome and a relaxing break to drive the seasonal chills away. Book online to take advantage of our offer and treat someone special to a weekend to remember this winter.
A Warm Welcome All Winter
Our Winter Warmer runs through to March 2015, so you don't have to rush to book. Got a birthday coming up that you want to celebrate in style? Got a surprise you want to give someone special for Christmas? Well, book them a room with his offer and they will think you were an angel that fell out of the sky just for them. It really is a treat that is not to be missed.
The Perfect Break
This is the ideal chance for you to get away from a couple of days and just enjoy the quiet and peaceful wonders of the Scottish Highlands. Relax in our spa, swim in our pool, enjoy a massage by a trained professional, enjoy a quiet romantic dinner for two and sleep as soundly as you have since you were a baby. Book now to avoid disappointment!
It is coming to the time where gift lists will be on your mind. Isn't there always that one person or one couple that you just get stuck for ideas on? Well, we at the Kingsmills have the perfect solution for you; gift vouchers. Our gift vouchers give the promise of a wondrous night or day treatment at the spa or other magnificent offers that will have your recipients cooing for months afterward.
Tea, for Two and Two For tea
As the winner of the Best Hotel in the HITA awards of 2012 and again coming up trumps at the SCDI awards this year, we share our pride with you and offer food and drink vouchers, whereby you can enjoy Afternoon Tea at the Kingsmills for two. Taste the delightful flavours of our fresh make sandwiches, warm tea and fresh cream cakes as you relax in our beautiful surroundings.
Upgrade to our Conservatory lunch for two and enjoy a three-course dinner from Monday to Saturday. Our Sunday lunch for two consists of a meal in our conservatory where you will taste perfectly cooked and wonderfully served food.  You can also buy gift vouchers for a swim lunch for 2, with either a two course or 3-course lunch.
Monetary Vouchers
If you want to give someone a monetary gift voucher that they can put toward a romantic stay, we offer those too. These also serve ideally as wedding gifts, birthday and Christmas gifts. If you fancy giving someone the gift of an overnight stay with breakfast, we offer vouchers for those and an upgrade from that includes dinner for a small extra addition to the price.
Other Options
We also offer other voucher options including spa treatments, massages, sportsman's tonic, one person treatment, two person's treatment and other options. We have tailored options too, so call us to find out what you can do to give the gift of plenty to someone you love this year.
Afternoon tea is historically something that was observed by the British upper and middle class as a light meal taken between 4pm and 6pm. Back in the 1840's it was Anna Maria Russell, the then Duchess of Bedford, who was credited largely with the creation of the observance. Apparently she was said to have been visiting Belvoir Castle in Leicestershire when she felt that sinking feeling, while alone in her chambers. A servant brought her a cup of tea and some finger sandwiches and a few little tea cakes. The trend caught on so well that 'Afternoon High Tea' fast became a custom of the upper and middle classes.
In true traditional style, we at the Kingsmills Hotel like to offer our residents and guests a full selection of afternoon tea options. The original part of our hotel dates as far back as the 18th century, and therefore there is every chance that you will be sitting on the same spot that someone else took high tea at back in Victorian times.
Elegance and Perfection
Our elegant conservatory garden room is the delightful setting where you will enjoy freshly made finger sandwiches with a choice of cucumber, salmon, or egg and cress to go with your delicious pot of hot tea. We serve it with a tray of scones and jam and a selection of tea cakes, again freshly made for your delectation.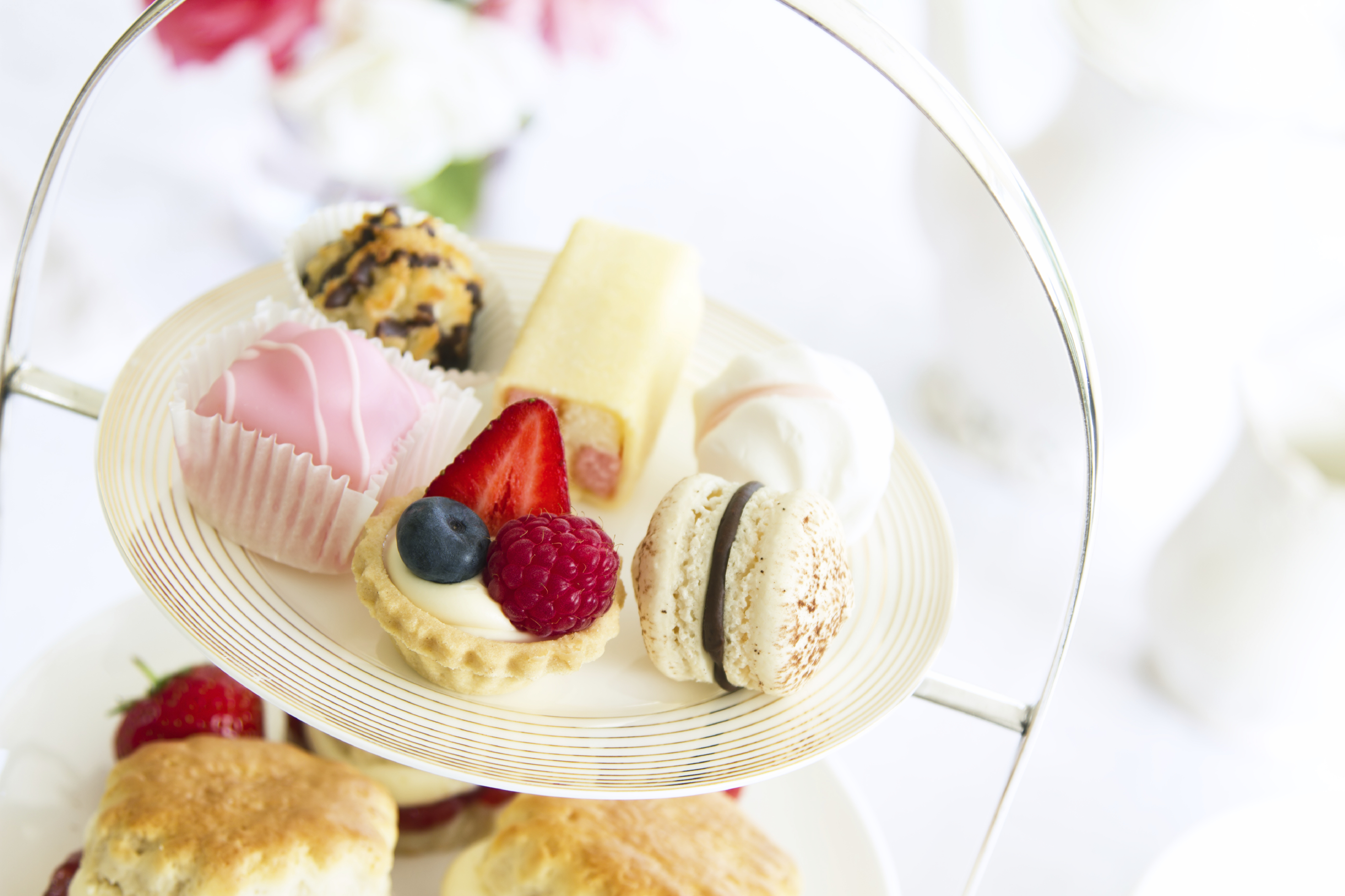 With our afternoon teas, the service, presentation and atmosphere is all part of the experience.  You will enjoy your hot cup of tea from a sterling silver ornate teapot and drink it from beautifully delicate bone china tea cups.
Indulge and Enjoy
We have an amazing, affordable offer for you to come and enjoy high tea with us. Sit in the comfort of our garden room and gaze over the landscaped grounds while you enjoy your afternoon tea for just £9.00 per person. It's a deal you should not miss, so give us a call and book yours now.