Working in an environment that is based around an ethos of outstanding service, providing world class guest experiences and going the extra mile means that The Kingsmills Hotel staff sometimes have to get creative…
That creativity can be about developing a really fun (albeit slightly off the wall!) Girls Slumber Party Package and other innovative special offers, or creating a truly indulgent spa experience.  Have a look at our spa treatment menu here if you're in the mood for some pampering! Recently, however we took the concept of creativity quite literally to help one of our guests out of a potentially sticky spot…
The Kingsmills Hotel recently hosted a group of actors who were filming a period drama at a nearby stately home, and it was great for staff and guests to see the colourful characters around the hotel.  One of the actors was understandably alarmed to realise that she had arranged to have her costume laundered, unaware that the laundry would be closed on the Sunday – the day of filming!
Thankfully our Operations Manager, Sandra, understands fully two important concepts which are ingrained in each and every staff member here at The Kingsmills Hotel:
Always go above and beyond to create a great guest experience, and
The Show must go on!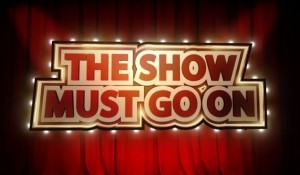 Recognising the guest's alarm, our Operations Manager asked 'What does your costume look like?'  Thankfully this particular guest wasn't playing aristocracy and didn't require puffy sleeves in opulent fabrics or elaborate bodices adorned with jewels!  Grateful to learn that the actress' character came from the other end of the social hierarchy, and needed only a long black skirt with black cape and cream coloured ruffled collar, Sandra set to work to make a replacement.  It's amazing what banqueting covers and a 'can do' attitude can create! So, with Sandra's help, the cast pulled off an amazing performance, the show, indeed, did go on as planned.
Kingsclub Spa offers the perfect sanctuary away from the toils of day to day life. Our ethos is based around well-being, health and relaxation. Open 7 days a week, we offer an extensive range of beauty therapies including facials, waxing, manicures and pedicures as well as a wide selection of indulgent Pamper Packages.
Our Duo package is the perfect romantic treat for you and your partner, offering a [Comfort Zone] face and body ritual and luxury hand and food treatments in our spacious Duo Suite, followed by refreshments, a sumptuous champagne lunch and the use of Kingsmills Hotel Leisure Club. At just £195 per couple, this is the perfect way to share your spa experience with a loved one. Or why not treat your mum or a close friend to some girly pampering together? We will even throw in a professional blow dry for just £15 per person, ensuring that you really do leave feeling a million dollars.
Kingsclub Spa also offers a selection of soothing and revitalising massage and reflexology treatments, from deep tissue and sports treatments, to specialist massages such as Indian head massages (bliss!) and our popular hot stone full body massage. Our range of Man Space treatments ensure the men in your life feel well and truly spoilt.
If, after all that relaxation, you feel like a refreshing work out, The Kingsmills Hotel Leisure Club is the ideal partner to Kingsclub Spa. Kitted out with a full range of state of the art exercise equipment, friendly and experienced fitness instructors, as well as a sauna and steam room, this is the perfect place to work out an appetite before enjoying a slap up meal in our airy a la carte Conservatory Restaurant. And why not top off a perfect day with a night of luxury in one of our Kingsclub rooms. Contemporary and spacious, yet delightfully cosy and comfortable, we guarantee that you will sleep like a log.
With so many treatments and Pamper Packages available, there is surely something at Kingsclub Spa to help you get that summer sparkle! You can call 01463 257 130 to enquire about and book treatments and pamper sessions, and gift vouchers are available to purchase online. Alternatively, you can submit a spa enquiry through our website, and we will call you to make all the arrangements (even booking is relaxing). You'll find a full list of available treatments and products in our online brochure.
Let us help you prepare for summer – go on, you deserve it!