Working in an environment that is based around an ethos of outstanding service, providing world class guest experiences and going the extra mile means that The Kingsmills Hotel staff sometimes have to get creative…
That creativity can be about developing a really fun (albeit slightly off the wall!) Girls Slumber Party Package and other innovative special offers, or creating a truly indulgent spa experience.  Have a look at our spa treatment menu here if you're in the mood for some pampering! Recently, however we took the concept of creativity quite literally to help one of our guests out of a potentially sticky spot…
The Kingsmills Hotel recently hosted a group of actors who were filming a period drama at a nearby stately home, and it was great for staff and guests to see the colourful characters around the hotel.  One of the actors was understandably alarmed to realise that she had arranged to have her costume laundered, unaware that the laundry would be closed on the Sunday – the day of filming!
Thankfully our Operations Manager, Sandra, understands fully two important concepts which are ingrained in each and every staff member here at The Kingsmills Hotel:
Always go above and beyond to create a great guest experience, and
The Show must go on!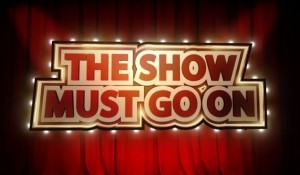 Recognising the guest's alarm, our Operations Manager asked 'What does your costume look like?'  Thankfully this particular guest wasn't playing aristocracy and didn't require puffy sleeves in opulent fabrics or elaborate bodices adorned with jewels!  Grateful to learn that the actress' character came from the other end of the social hierarchy, and needed only a long black skirt with black cape and cream coloured ruffled collar, Sandra set to work to make a replacement.  It's amazing what banqueting covers and a 'can do' attitude can create! So, with Sandra's help, the cast pulled off an amazing performance, the show, indeed, did go on as planned.
Here at the Kingsmills Hotel there is never a dull moment! And on Good Friday this year, we had a very interesting phone call from one of our guests on their way to stay at the hotel, and it makes for an excellent story!
Miss Degroot and Mr Eastman, a couple from the USA, were travelling around Scotland on the Adventure by Disney Tour, which is based loosely on the latest Disney Pixar  film 'Brave', which is set in and around the highlands of Scotland.  The Adventure by Disney tour, gives guests the chance to "walk amongst lush landscapes where ancient stone castles rise from the mist, heralding a proud heritage that served as the inspiration and backdrop for the Disney•Pixar animated film Brave. Our Scotland adventure puts you in the footsteps of royalty, loyal clans and quite possibly a mythical sea creature." 
The Disney tour highlights Scottish landmarks such as the following:
Prior to this once in a lifetime trip Mr Eastman had proposed and Miss Degroot happily said "YES"! They went on to coincide their trip with their nuptials and planned that on the last stop of their tour, the two would marry in Edinburgh Castle. How romantic! However, when the couple were on their way to stay with us at the Kingsmills Hotel, the story took a turn for the worst and we received a call on the Friday afternoon from the Isle of Lewis;  the bride had been informed that her wedding dress, that was meant to be delivered to their hotel in Edinburgh (from the Far East) ready for the Big Day, would not arrive until the following week, when they were due back in US, and  the wedding was taking place 48 hours from the bad news being delivered!!
Tensions were running high and our General Manager, Craig Ewan, took matters into his own hands and arranged for local bridal shop,  "Dress 2 Impress" on Castle street in Inverness which is owned by Iona Peace, to remain open through Friday evening so that on arrival in Inverness the bride could choose and have a fitting for a replacement dress.  In the end, Miss Degroot was able to find a replacement gown last minute, the couple were able to enjoy the rest of their stay at the Kingsmill Hotel and their stopover in Inverness. They then continued onto Edinburgh where the wedding took place without further hitch! The happy couple and Disney were surprised and immensely grateful for all our efforts. The couple thanked us greatly and we also received a thank-you letter from the Operations Director of Adventures by Disney. And everyone lived Happily Ever After!
The staff at Kingsmills Hotel are delighted to play host to the beautiful and inspirational Megan Gillon on a regular basis. We always love having Megan to stay at our hotel in Inverness, and were touched by the beautiful message we received from her mother, Kirsty Gillon, after her most recent stay with us:
Hi, my daughter and I stay with you regularly (as she visits Raigmore Hospital a lot!). When we stayed last time (10th April for 2 nights) you kindly gave us a complimentary upgrade to the Kingsclub and a beautiful room with a balcony overlooking the golf course. We just want to say a massive thank you to all the staff because they treated Megan like a princess! She's in a wheelchair and has a few confidence issues but you made her usual hospital visit into a real treat! She has not smiled that much in a while and I can't thank the Kingsclub and Leisure centre staff enough for making her feel like royalty. The dining room staff were just as wonderful in dealing with her food allergies! You really made a difference to my wee angel! We're coming back to stay at the Kingsmills on Sunday 12th for a night as we have Raigmore again on Monday and she's really looking forward to it. Thank you again!!
We are thrilled that Megan enjoyed her complimentary upgrade to Kingsclub, and appreciated the lovely balcony views over our neighbouring Scottish golf course. Our restaurant staff have a real family dining ethos, catering to all palates and dietary requirements with a fine selection of Scottish cuisine, and I am so pleased that Megan enjoyed eating in our hotel restaurant too.
It was a pleasure welcoming you back again last night Princess Megan, and we hope to see you again soon for some more royal treatment!