It can be a struggle to think of appropriate Christmas gifts for our friends and family.  There are only so many gift-sets that can be useful! If you are looking for the perfect gift that is highly coveted, stylish and very much appreciated, then the Kingsmills Hotel  has the answer. Our gift vouchers will allow you to tick off your Christmas list for your nearest and dearest, and even the school teacher! Vouchers are available for afternoon tea in the sumptuous surroundings of the Kingsmills Lounge; an elegant treat.  Or a voucher for a delicious lunch in the highly-acclaimed Conservatory restaurant will make sure you're on next year's Christmas list. We could all be better at making time to treat ourselves to a rejuvenating massage or facial, but somehow life is just too busy!  So if you are looking for a gift that has a little extra "care" attached then a voucher for our indulgent and relaxing spa would be perfect.  We also offer treatments for men using our award winning Comfort Zone products (and let's face it – after socks and after shave, it's a struggle!). And for that extra special gift we have vouchers for a luxury stay at the Kingsmills Hotel.  Purchase a voucher for a memorable visit and choose from our classic, deluxe, luxury, cocoon or retreat rooms.  Ranging from the traditional and relaxing to the stylish and luxurious, each room type offers a wonderful experience. To find our more about our vouchers please click here.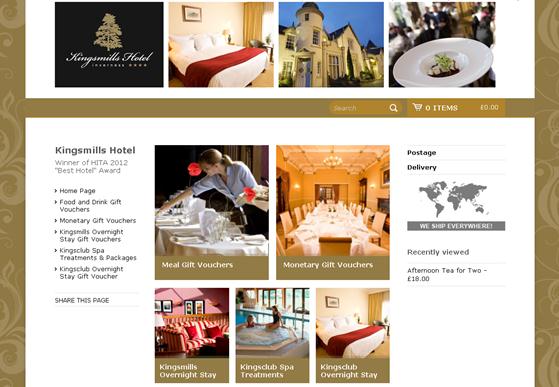 The exciting new development project at The Kingsmills Hotel, Inverness is coming on a-pace!  This great summer weather has certainly helped to keep work moving forward and we can now get a really solid idea of what our new conference and events space, and our 38 new Luxury Bedrooms are going to look like!
We have even managed several site visits now with clients, who have been happy to put on a hard hat and steel toe capped shoes!  They have been delighted with progress and the vision of what we are creating.  For the team at The Kingsmills, it is these site visits that create the excitement – we are really getting a sense of how the space is going to work for our clients and it's encouraging to see the diary filling up.
Our new dedicated air-conditioned events venue within the grounds will host 410 sqm of the newest, design-led meeting and events space – The Kingsmills Suite.  This makes us the largest conference venue in The Highlands, which can also offer car parking and a large number of bedrooms for business travellers - perfect for large-scale events in Scotland. For more details about our events facilities, please download our sparkly new events brochure here.
We are also adding 38 beautiful bedrooms above The Kingsmills Suite. We are entitling these rooms 'Luxury', and they truly epitomise Luxury in its finest form: spacious and extravagant, offering king-sized beds, sumptuous duvets and cottons. And it doesn't stop there, with en-suite bathrooms boasting separate bath and walk-in shower as well as fluffy towels to engulf you.  And boy!  What a view!  This photograph taken earlier today shows you the view from our new Luxury rooms.  You can see out over the fairways of the neighbouring Inverness Golf Club and further on to the hills and out to Loch Ness – idyllic!